About Us
Spicy Hut is a Indian takeaway in Bingley. Why don't you try our Keema on Naan or Kebab Meat in Tray with Chips?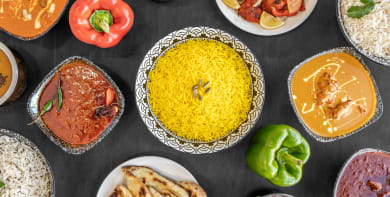 Reviews
117 reviews
Sam
"Lovely food and warm too! Thank you"
30/05/2020
Endgame
"Outstanding food & service"
18/05/2020
Stacey
"Food and service was brilliant, one of the best curries I have tasted! Would definitely recommend and will be going back :)"
10/05/2020
Matthew
"It was great as always.....had a curry this time but the pizzas are good too."
08/05/2020
Menu
Chicken Tikka Starter Breast Off Bone
£5.00
Chicken Tikka Starter On The Bone
£5.50
Meat Box
Meat samosa, seekh kebab, shami kebab & fresh salad
£4.50
Mixed Starter
A mixture of shami, onion bhaji, samosa, mushroom, chicken pakora, Asian pakora, spring roll & potato bhaji
£5.70
Mixed Tikka Starter
Chicken tikka, meat tikka & fresh salad
£6.00
Special Mixed Starter
Mixed starter (above) with chicken tikka & seekh kebab
£7.00
Spring Roll (3)
Vegetable
£2.50
Vegetable Pakora (5)
Asian style, hot
£2.50
Cheeseburger Double
Topped with cheese
£4.70
Cheeseburger Single
Topped with cheese
£3.70
Cheeseburger Triple
Topped with cheese
£5.70
Cheesy Chicken Burger Double
Chicken coated with batter served with cheese, lettuce & mayonnaise
£5.50
Cheesy Chicken Burger Single
Chicken coated with batter served with cheese, lettuce & mayonnaise
£4.50
Cheesy Chicken Burger Triple
Chicken coated with batter served with cheese, lettuce & mayonnaise
£6.50
Cheesy Fish Burger Double
Served with lettuce, mayonnaise, cheese & burger sauce
£5.50
Cheesy Fish Burger Single
Served with lettuce, mayonnaise, cheese & burger sauce
£4.50
Cheesy Fish Burger Triple
Served with lettuce, mayonnaise, cheese & burger sauce
£6.50
Chicken Burger Double
Chicken coated with batter served with lettuce & mayonnaise
£5.00
Chicken Burger Single
Chicken coated with batter served with lettuce & mayonnaise
£4.00
Chicken Burger Triple
Chicken coated with batter served with lettuce & mayonnaise
£6.00
Chicken Fillet Burger Double
Prime chicken breast coated with batter served with lettuce & mayonnaise
£5.50
Chicken Fillet Burger Single
Prime chicken breast coated with batter served with lettuce & mayonnaise
£4.50
Chicken Fillet Burger Triple
Prime chicken breast coated with batter served with lettuce & mayonnaise
£6.50
American Burger Double
Topped with fried onions
£4.70
American Burger Single
Topped with fried onions
£3.70
American Burger Triple
Topped with fried onions
£5.70
American Supreme Burger Double
With fried onions & cheese
£5.00
American Supreme Burger Single
With fried onions & cheese
£4.00
American Supreme Burger Triple
With fried onions & cheese
£6.00
BBQ Burger Double
Topped with cheese & BBQ sauce
£4.70
BBQ Burger Single
Topped with cheese & BBQ sauce
£3.70
BBQ Burger Triple
Topped with cheese & BBQ sauce
£5.70
Donner Burger Double
Beef burger topped with donner meat
£5.50
Donner Burger Single
Beef burger topped with donner meat
£4.50
Donner Burger Triple
Beef burger topped with donner meat
£6.50
Daddy Burger
4x Beef burgers topped with cheese, burger sauce, lettuce & mayo
£7.00
Garlic Burger Double
Topped with garlic mayonnaise
£4.70
Garlic Burger Single
Topped with garlic mayonnaise
£3.70
Garlic Burger Triple
Topped with garlic mayonnaise
£5.70
Combo Burger Double
Chicken fillet burger, beef burger topped with cheese, lettuce & mayonnaise
£6.30
Combo Burger Single
Chicken fillet burger, beef burger topped with cheese, lettuce & mayonnaise
£5.30
Combo Burger Triple
Chicken fillet burger, beef burger topped with cheese, lettuce & mayonnaise
£7.30
Chilli Burger Double
Topped with chilli sauce
£5.00
Chilli Burger Single
Topped with chilli sauce
£4.00
Chilli Burger Triple
Topped with chilli sauce
£6.00
Texas Burger Double
Beef burger topped with cheese, onions, green peppers, onion rings with a choice of sauces
£5.30
Texas Burger Single
Beef burger topped with cheese, onions, green peppers, onion rings with a choice of sauces
£4.30
Texas Burger Triple
Beef burger topped with cheese, onions, green peppers, onion rings with a choice of sauces
£6.30
Tower Burger Double
Chicken fillet topped with hash brown, cheese, lettuce & mayonnaise
£5.70
Tower Burger Single
Chicken fillet topped with hash brown, cheese, lettuce & mayonnaise
£4.70
Tower Burger Triple
Chicken fillet topped with hash brown, cheese, lettuce & mayonnaise
£6.70
Flamin Burger Double
Beef burger topped with onions, green peppers, chilli sauce & cheese
£5.30
Flamin Burger Single
Beef burger topped with onions, green peppers, chilli sauce & cheese
£4.30
Flamin Burger Triple
Beef burger topped with onions, green peppers, chilli sauce & cheese
£6.30
Hawaiian Burger Double
Topped with cheese & pineapple
£5.30
Hawaiian Burger Single
Topped with cheese & pineapple
£4.30
Hawaiian Burger Triple
Topped with cheese & pineapple
£6.30
Ben & Jerry's Chocolate Cookie Dough - 500ml
Vanilla ice cream with gobs of chocolate chip cookie dough
£5.95
Ben & Jerry's Chocolate Fudge Brownie - 500ml
Chocolate ice cream with fudge brownies- The fabulously fudgy brownies in this flavor come from New York's Greyston Bakery
£5.95
Cornflake Tart With Custard
£4.50
Jam Roly Poly With Custard
£4.50
Ferrero Rocher Cheesecake
£4.00
Original Kulfi Ice Cream - 120ml
with Almonds and Pistachios
£2.50
Mango Kulfi Ice Cream - 120ml
£2.50
Krazzy Moo Ice Cream 120ml Strawberry
£2.00
Krazzy Moo Ice Cream 120ml Bubble gum
£2.00
Krazzy Moo Ice Cream 120ml Chocolate
£2.00
Butter Meat Balti
Cooked with top quality butter & spices
£9.50
Chicken Tikka Keema Balti
£9.50
Parsi Chicken
A dish lavishly garnished with fresh garlic, green chillies, spring onions, ginger, tomatoes & chana daal
£9.50
Parsi Meat
A dish lavishly garnished with fresh garlic, green chillies, spring onions, ginger, tomatoes & chana daal
£9.50
Cheesy Chicken Tikka Balti
£9.50
Karahi Chicken
Small pieces of meat or chicken cooked with onions, garlic, peppers, tomatoes in an Asian style wok. Garnished with coriander & spices
£9.00
Karahi Chicken Tikka
Small pieces of meat or chicken cooked with onions, garlic, peppers, tomatoes in an Asian style wok. Garnished with coriander & spices
£9.50
Karahi Keema
Small pieces of meat or chicken cooked with onions, garlic, peppers, tomatoes in an Asian style wok. Garnished with coriander & spices
£9.00
Karahi Meat
Small pieces of meat or chicken cooked with onions, garlic, peppers, tomatoes in an Asian style wok. Garnished with coriander & spices
£9.00
Karahi Mixed (Chicken, Meat, Mushroom & Prawn)
Small pieces of meat or chicken cooked with onions, garlic, peppers, tomatoes in an Asian style wok. Garnished with coriander & spices
£9.80
Karahi Prawn
Small pieces of meat or chicken cooked with onions, garlic, peppers, tomatoes in an Asian style wok. Garnished with coriander & spices
£9.50
Karahi Vegetable
Small pieces of meat or chicken cooked with onions, garlic, peppers, tomatoes in an Asian style wok. Garnished with coriander & spices
£9.00
Hyderabadi Chicken
A distinctly rich dish cooked with tangy spices, coriander, fresh cream, yoghurt, tomatoes, garlic & ginger in bay leaf juices, cardamom & cloves. This is a very rich dish & full of distinctive flavour
£9.30
Hyderabadi Chicken Tikka
A distinctly rich dish cooked with tangy spices, coriander, fresh cream, yoghurt, tomatoes, garlic & ginger in bay leaf juices, cardamom & cloves. This is a very rich dish & full of distinctive flavour
£9.80
Hyderabadi Keema
A distinctly rich dish cooked with tangy spices, coriander, fresh cream, yoghurt, tomatoes, garlic & ginger in bay leaf juices, cardamom & cloves. This is a very rich dish & full of distinctive flavour
£9.30
Hyderabadi Meat
A distinctly rich dish cooked with tangy spices, coriander, fresh cream, yoghurt, tomatoes, garlic & ginger in bay leaf juices, cardamom & cloves. This is a very rich dish & full of distinctive flavour
£9.30
Hyderabadi Mixed (Chicken, Meat, Mushroom & Prawn)
A distinctly rich dish cooked with tangy spices, coriander, fresh cream, yoghurt, tomatoes, garlic & ginger in bay leaf juices, cardamom & cloves. This is a very rich dish & full of distinctive flavour
£9.80
Hyderabadi Prawn
A distinctly rich dish cooked with tangy spices, coriander, fresh cream, yoghurt, tomatoes, garlic & ginger in bay leaf juices, cardamom & cloves. This is a very rich dish & full of distinctive flavour
£9.80
Hyderabadi Vegetable
A distinctly rich dish cooked with tangy spices, coriander, fresh cream, yoghurt, tomatoes, garlic & ginger in bay leaf juices, cardamom & cloves. This is a very rich dish & full of distinctive flavour
£9.30
Garlic Chilli Chicken
Cooked with fresh garlic in a thick sauce, sprinkled with fresh green chillies, (medium to hot)
£9.30
Garlic Chilli Chicken Tikka
Cooked with fresh garlic in a thick sauce, sprinkled with fresh green chillies, (medium to hot)
£9.80
Garlic Chilli Keema
Cooked with fresh garlic in a thick sauce, sprinkled with fresh green chillies, (medium to hot)
£9.30
Garlic Chilli Meat
Cooked with fresh garlic in a thick sauce, sprinkled with fresh green chillies, (medium to hot)
£9.30
Garlic Chilli Mixed Balti (Chicken, Meat, Mushroom & Prawn)
Cooked with fresh garlic in a thick sauce, sprinkled with fresh green chillies, (medium to hot)
£9.80
Garlic Chilli Vegetable
Cooked with fresh garlic in a thick sauce, sprinkled with fresh green chillies, (medium to hot)
£9.30
Achar Chicken
Achar dishes are cooked with fresh tomatoes, onions, green chillies, garlic, coriander, methi seeds, aniseeds, mustard seeds & ginger, & gently simmered in bay leaf juice
£9.30
Achar Chicken Tikka
Achar dishes are cooked with fresh tomatoes, onions, green chillies, garlic, coriander, methi seeds, aniseeds, mustard seeds & ginger, & gently simmered in bay leaf juice
£9.80
Achar Keema
Achar dishes are cooked with fresh tomatoes, onions, green chillies, garlic, coriander, methi seeds, aniseeds, mustard seeds & ginger, & gently simmered in bay leaf juice
£9.30
Achar Meat
Achar dishes are cooked with fresh tomatoes, onions, green chillies, garlic, coriander, methi seeds, aniseeds, mustard seeds & ginger, & gently simmered in bay leaf juice
£9.30
Achar Mixed Balti (Chicken, Meat, Mushroom & Prawn)
Achar dishes are cooked with fresh tomatoes, onions, green chillies, garlic, coriander, methi seeds, aniseeds, mustard seeds & ginger, & gently simmered in bay leaf juice
£9.80
Achar Vegetable
Achar dishes are cooked with fresh tomatoes, onions, green chillies, garlic, coriander, methi seeds, aniseeds, mustard seeds & ginger, & gently simmered in bay leaf juice
£9.30
Balti Chicken
Prepared with fresh garlic, ginger, tomatoes, onions, fresh coriander, herbs & spices. Cooked in a balti
£9.30
Balti Chicken Tikka
Prepared with fresh garlic, ginger, tomatoes, onions, fresh coriander, herbs & spices. Cooked in a balti
£9.80
Balti Keema
Prepared with fresh garlic, ginger, tomatoes, onions, fresh coriander, herbs & spices. Cooked in a balti
£9.30
Balti Meat
Prepared with fresh garlic, ginger, tomatoes, onions, fresh coriander, herbs & spices. Cooked in a balti
£9.30
Balti Prawn
Prepared with fresh garlic, ginger, tomatoes, onions, fresh coriander, herbs & spices. Cooked in a balti
£9.80
Balti Special Mixed (Chicken, Meat, Mushroom & Prawn)
Prepared with fresh garlic, ginger, tomatoes, onions, fresh coriander, herbs & spices. Cooked in a balti
£10.30
Balti Vegetable
Prepared with fresh garlic, ginger, tomatoes, onions, fresh coriander, herbs & spices. Cooked in a balti
£9.30
Balti Mixed with Vegetable Balti Bhindi Ghosht (Okra Meat)
A thoroughly garnished dish, onions, garlic & tomato & a few balti spices. Extensively flavoured & palatable to every kind of constitution
£9.80
Balti Mixed with Vegetable Balti Chana Murgh (Chickpeas Chicken)
A thoroughly garnished dish, onions, garlic & tomato & a few balti spices. Extensively flavoured & palatable to every kind of constitution
£9.80
Balti Mixed with Vegetable Balti Ghobi Ghosht (Cauliflower Meat)
A thoroughly garnished dish, onions, garlic & tomato & a few balti spices. Extensively flavoured & palatable to every kind of constitution
£9.80
Balti Mixed with Vegetable Balti Ghobi Murgh (Cauliflower Chicken)
A thoroughly garnished dish, onions, garlic & tomato & a few balti spices. Extensively flavoured & palatable to every kind of constitution
£9.80
Balti Mixed with Vegetable Balti Saag Gosht (Spinach Meat)
A thoroughly garnished dish, onions, garlic & tomato & a few balti spices. Extensively flavoured & palatable to every kind of constitution
£9.80
Balti Mixed with Vegetable Balti Saag Murgh (Spinach Chicken)
A thoroughly garnished dish, onions, garlic & tomato & a few balti spices. Extensively flavoured & palatable to every kind of constitution
£9.80
Aloo Chana
Potato & chickpeas
£5.00
Aloo Gobi
Potato & cauliflower
£5.00
Aloo Palak
Potato & spinach
£5.00
Chicken Tikka Gravy
Chicken tikka on the bone, curry sauce & 3 chapatis
£9.00
Biryani Biryani Khas
The main item is fried in oil with specially cooked with Saffron flavoured basmati rice, served with a vegetable curry sauce
£8.30
Biryani Chicken
The main item is fried in oil with specially cooked with Saffron flavoured basmati rice, served with a vegetable curry sauce
£7.30
Biryani Chicken Tikka
The main item is fried in oil with specially cooked with Saffron flavoured basmati rice, served with a vegetable curry sauce
£7.80
Biryani Meat
The main item is fried in oil with specially cooked with Saffron flavoured basmati rice, served with a vegetable curry sauce
£7.30
Biryani Mushroom
The main item is fried in oil with specially cooked with Saffron flavoured basmati rice, served with a vegetable curry sauce
£7.30
Biryani Prawn
The main item is fried in oil with specially cooked with Saffron flavoured basmati rice, served with a vegetable curry sauce
£7.80
Biryani Vegetable
The main item is fried in oil with specially cooked with Saffron flavoured basmati rice, served with a vegetable curry sauce
£7.30
Kebab Meat in Tray Regular
£3.70
Kebab Meat in Tray with Chips Large
£5.70
Kebab Meat in Tray with Chips Regular
£4.70
Mixed Kebab & Chips in Tray Large
£8.00
Mixed Kebab & Chips in Tray Regular
£7.00
Mixed Kebab in Pitta Large
Chicken tikka & donner
£6.50
Mixed Kebab in Pitta Regular
Chicken tikka & donner
£5.50
Meat Tikka in Pitta Large
£6.20
Meat Tikka in Pitta Regular
£5.20
Seekh Kebab in Pitta (2) Large
£5.20
Seekh Kebab in Pitta (2) Regular
£4.20
Chicken Tikka & Chips Large
£6.70
Chicken Tikka & Chips Regular
£5.70
Chicken Tikka in Pitta Large
£6.50
Chicken Tikka in Pitta Regular
£5.50
Chicken Tikka on Naan Large
£7.50
Chicken Tikka on Naan Regular
£6.50
Seekh Kebab on Naan (3) Large
£6.50
Seekh Kebab on Naan (3) Regular
£5.50
Special Kebab on Naan Large
Donner, shish, chicken tikka & seekh
£9.00
Special Kebab on Naan Regular
Donner, shish, chicken tikka & seekh
£8.00
Super Kebab on Naan Large
Donner, shish, chicken tikka, keema & seekh
£10.00
Super Kebab on Naan Regular
Donner, shish, chicken tikka, keema & seekh
£9.00
Supremealicious Large
Donner, shish, chicken tikka, keema, seekh & shami kebab with fried onions
£14.00
Supremealicious Regular
Donner, shish, chicken tikka, keema, seekh & shami kebab with fried onions
£13.00
Meat Tikka on Naan Regular
£6.50
Mixed Kebab on Naan Large
Chicken tikka & donner
£8.00
Mixed Kebab on Naan Regular
Chicken tikka & donner
£7.00
Pickle Tray
Mango chutney, mixed pickle, red onion sauce, chilli sauce & mint sauce
£2.00
Family Pack
6 Pieces & 2 chips
£8.00
Mega Family Box
6 pieces
2 chips
popcorn chicken & chips
bottle of Pepsi
£14.00
Bhuna Chicken
A thoroughly garnished dish, onions, garlic & tomato & a few selected spices. Extensively flavoured & palatable to every kind of constitution
Medium
£7.70
Bhuna Chicken Tikka
A thoroughly garnished dish, onions, garlic & tomato & a few selected spices. Extensively flavoured & palatable to every kind of constitution
Medium
£8.20
Bhuna Keema
A thoroughly garnished dish, onions, garlic & tomato & a few selected spices. Extensively flavoured & palatable to every kind of constitution
Medium
£7.70
Bhuna Meat
A thoroughly garnished dish, onions, garlic & tomato & a few selected spices. Extensively flavoured & palatable to every kind of constitution
Medium
£7.70
Bhuna Mushroom
A thoroughly garnished dish, onions, garlic & tomato & a few selected spices. Extensively flavoured & palatable to every kind of constitution
Medium
£7.70
Bhuna Prawn
A thoroughly garnished dish, onions, garlic & tomato & a few selected spices. Extensively flavoured & palatable to every kind of constitution
Medium
£8.20
Bhuna Vegetable
A thoroughly garnished dish, onions, garlic & tomato & a few selected spices. Extensively flavoured & palatable to every kind of constitution
Medium
£7.70
Curries Chicken
The sauce of these curries is of a medium consistency produced from a wide, basic range of oriental spices with a rich flavour
Medium
£7.30
Curries Chicken Tikka
The sauce of these curries is of a medium consistency produced from a wide, basic range of oriental spices with a rich flavour
Medium
£7.80
Curries Keema
The sauce of these curries is of a medium consistency produced from a wide, basic range of oriental spices with a rich flavour
Medium
£7.30
Curries Meat
The sauce of these curries is of a medium consistency produced from a wide, basic range of oriental spices with a rich flavour
Medium
£7.30
Curries Mushroom
The sauce of these curries is of a medium consistency produced from a wide, basic range of oriental spices with a rich flavour
Medium
£7.30
Curries Prawn
The sauce of these curries is of a medium consistency produced from a wide, basic range of oriental spices with a rich flavour
Medium
£7.80
Curries Vegetable
The sauce of these curries is of a medium consistency produced from a wide, basic range of oriental spices with a rich flavour
Medium
£7.30
Dopiaza Chicken
Maximum onions seasoned & fresh, applied with dozens of spices to produce a taste that is medium hot
Medium
£7.70
Dopiaza Chicken Tikka
Maximum onions seasoned & fresh, applied with dozens of spices to produce a taste that is medium hot
Medium
£8.20
Dopiaza Keema
Maximum onions seasoned & fresh, applied with dozens of spices to produce a taste that is medium hot
Medium
£7.70
Dopiaza Meat
Maximum onions seasoned & fresh, applied with dozens of spices to produce a taste that is medium hot
Medium
£7.70
Dopiaza Mushroom
Maximum onions seasoned & fresh, applied with dozens of spices to produce a taste that is medium hot
Medium
£7.70
Dopiaza Prawn
Maximum onions seasoned & fresh, applied with dozens of spices to produce a taste that is medium hot
Medium
£8.20
Dopiaza Vegetable
Maximum onions seasoned & fresh, applied with dozens of spices to produce a taste that is medium hot
Medium
£7.70
Dahi Chicken
A delicate preparation of yoghurt & spices producing a very mild but rich texture & flavour, palatable to all tastes
Mild
£7.70
Dahi Chicken Tikka
A delicate preparation of yoghurt & spices producing a very mild but rich texture & flavour, palatable to all tastes
Mild
£8.20
Dahi Keema
A delicate preparation of yoghurt & spices producing a very mild but rich texture & flavour, palatable to all tastes
Mild
£7.70
Dahi Meat
A delicate preparation of yoghurt & spices producing a very mild but rich texture & flavour, palatable to all tastes
Mild
£7.70
Dahi Mushroom
A delicate preparation of yoghurt & spices producing a very mild but rich texture & flavour, palatable to all tastes
Mild
£7.70
Dahi Prawn
A delicate preparation of yoghurt & spices producing a very mild but rich texture & flavour, palatable to all tastes
Mild
£8.20
Dahi Vegetable
A delicate preparation of yoghurt & spices producing a very mild but rich texture & flavour, palatable to all tastes
Mild
£7.70
Dansak Chicken
A beautiful combination of spices with pineapple, lentils & garlic to produce a sweet & sour taste. Of Persian origin
Sweet & sour
£7.70
Dansak Chicken Tikka
A beautiful combination of spices with pineapple, lentils & garlic to produce a sweet & sour taste. Of Persian origin
Sweet & sour
£8.20
Dansak Keema
A beautiful combination of spices with pineapple, lentils & garlic to produce a sweet & sour taste. Of Persian origin
Sweet & sour
£7.70
Dansak Meat
A beautiful combination of spices with pineapple, lentils & garlic to produce a sweet & sour taste. Of Persian origin
Sweet & sour
£7.70
Dansak Mushroom
A beautiful combination of spices with pineapple, lentils & garlic to produce a sweet & sour taste. Of Persian origin
Sweet & sour
£7.70
Dansak Prawn
A beautiful combination of spices with pineapple, lentils & garlic to produce a sweet & sour taste. Of Persian origin
Sweet & sour
£8.20
Dansak Vegetable
A beautiful combination of spices with pineapple, lentils & garlic to produce a sweet & sour taste. Of Persian origin
Sweet & sour
£7.70
Vindaloo Chicken
A South Indian dish having a greater proportion of tomato puree & spice which lends a fiery taste
Very hot
£7.70
Vindaloo Chicken Tikka
A South Indian dish having a greater proportion of tomato puree & spice which lends a fiery taste
Very hot
£8.20
Vindaloo Keema
A South Indian dish having a greater proportion of tomato puree & spice which lends a fiery taste
Very hot
£7.70
Vindaloo Meat
A South Indian dish having a greater proportion of tomato puree & spice which lends a fiery taste
Very hot
£7.70
Vindaloo Mushroom
A South Indian dish having a greater proportion of tomato puree & spice which lends a fiery taste
Very hot
£7.70
Vindaloo Prawn
A South Indian dish having a greater proportion of tomato puree & spice which lends a fiery taste
Very hot
£8.20
Vindaloo Vegetable
A South Indian dish having a greater proportion of tomato puree & spice which lends a fiery taste
Very hot
£7.70
Rogan Josh Chicken
A special preparation, extremely prepared with pimiento, garlic & garnished with tomatoes
Medium
£7.70
Rogan Josh Chicken Tikka
A special preparation, extremely prepared with pimiento, garlic & garnished with tomatoes
Medium
£8.20
Rogan Josh Keema
A special preparation, extremely prepared with pimiento, garlic & garnished with tomatoes
Medium
£7.70
Rogan Josh Meat
A special preparation, extremely prepared with pimiento, garlic & garnished with tomatoes
Medium
£7.70
Rogan Josh Mushroom
A special preparation, extremely prepared with pimiento, garlic & garnished with tomatoes
Medium
£7.70
Rogan Josh Prawn
A special preparation, extremely prepared with pimiento, garlic & garnished with tomatoes
Medium
£8.20
Rogan Josh Vegetable
A special preparation, extremely prepared with pimiento, garlic & garnished with tomatoes
Medium
£7.70
Pathia Chicken
Extensive use of garlic, onions, tomato puree, red chilli & black pepper. A sour & hot taste
Medium
£7.70
Pathia Chicken Tikka
Extensive use of garlic, onions, tomato puree, red chilli & black pepper. A sour & hot taste
Medium
£8.20
Pathia Keema
Extensive use of garlic, onions, tomato puree, red chilli & black pepper. A sour & hot taste
Medium
£7.70
Pathia Meat
Extensive use of garlic, onions, tomato puree, red chilli & black pepper. A sour & hot taste
Medium
£7.70
Pathia Mushroom
Extensive use of garlic, onions, tomato puree, red chilli & black pepper. A sour & hot taste
Medium
£7.70
Pathia Prawn
Extensive use of garlic, onions, tomato puree, red chilli & black pepper. A sour & hot taste
Medium
£8.20
Pathia Vegetable
Extensive use of garlic, onions, tomato puree, red chilli & black pepper. A sour & hot taste
Medium
£7.70
Jalfrezi Chicken
Cooked with garlic, tomatoes, eggs, chillies, herbs & spices
Medium
£7.70
Jalfrezi Chicken Tikka
Cooked with garlic, tomatoes, eggs, chillies, herbs & spices
Medium
£8.20
Jalfrezi Keema
Cooked with garlic, tomatoes, eggs, chillies, herbs & spices
Medium
£7.70
Jalfrezi Meat
Cooked with garlic, tomatoes, eggs, chillies, herbs & spices
Medium
£7.70
Jalfrezi Mushroom
Cooked with garlic, tomatoes, eggs, chillies, herbs & spices
Medium
£7.70
Jalfrezi Prawn
Cooked with garlic, tomatoes, eggs, chillies, herbs & spices
Medium
£8.20
Jalfrezi Vegetable
Cooked with garlic, tomatoes, eggs, chillies, herbs & spices
Medium
£7.70
Korma Chicken
A delicate preparation of coconut, cream & spices producing a very mild but rich texture & flavour, palatable to all tastes
Mild
£7.70
Korma Chicken Tikka
A delicate preparation of coconut, cream & spices producing a very mild but rich texture & flavour, palatable to all tastes
Mild
£8.20
Korma Keema
A delicate preparation of coconut, cream & spices producing a very mild but rich texture & flavour, palatable to all tastes
Mild
£7.70
Korma Meat
A delicate preparation of coconut, cream & spices producing a very mild but rich texture & flavour, palatable to all tastes
Mild
£7.70
Korma Mushroom
A delicate preparation of coconut, cream & spices producing a very mild but rich texture & flavour, palatable to all tastes
Mild
£7.70
Korma Prawn
A delicate preparation of coconut, cream & spices producing a very mild but rich texture & flavour, palatable to all tastes
Mild
£8.20
Korma Vegetable
A delicate preparation of coconut, cream & spices producing a very mild but rich texture & flavour, palatable to all tastes
Mild
£7.70
Madras Chicken
A South Indian dish having a greater proportion of tomato puree & spice which lends a fiery taste
Hot
£7.70
Madras Chicken Tikka
A South Indian dish having a greater proportion of tomato puree & spice which lends a fiery taste
Hot
£8.20
Madras Keema
A South Indian dish having a greater proportion of tomato puree & spice which lends a fiery taste
Hot
£7.70
Madras Meat
A South Indian dish having a greater proportion of tomato puree & spice which lends a fiery taste
Hot
£7.70
Madras Mushroom
A South Indian dish having a greater proportion of tomato puree & spice which lends a fiery taste
Hot
£7.70
Madras Prawn
A South Indian dish having a greater proportion of tomato puree & spice which lends a fiery taste
Hot
£8.20
Madras Vegetable
A South Indian dish having a greater proportion of tomato puree & spice which lends a fiery taste
Hot
£7.70
Makhani Chicken
A dish in a creamy buttery sauce, with herbs
Mild
£7.70
Makhani Chicken Tikka
A dish in a creamy buttery sauce, with herbs
Mild
£8.20
Makhani Keema
A dish in a creamy buttery sauce, with herbs
Mild
£7.70
Makhani Meat
A dish in a creamy buttery sauce, with herbs
Mild
£7.70
Makhani Mushroom
A dish in a creamy buttery sauce, with herbs
Mild
£7.70
Makhani Prawn
A dish in a creamy buttery sauce, with herbs
Mild
£8.20
Makhani Vegetable
A dish in a creamy buttery sauce, with herbs
Mild
£7.70
Masala Chicken
A thoroughly garnished dish, onions, garlic & tomato & a few selected spices. Extensively flavoured & palatable to every kind of constitution
Medium dry
£7.70
Masala Chicken Tikka
A thoroughly garnished dish, onions, garlic & tomato & a few selected spices. Extensively flavoured & palatable to every kind of constitution
Medium dry
£8.20
Masala Keema
A thoroughly garnished dish, onions, garlic & tomato & a few selected spices. Extensively flavoured & palatable to every kind of constitution
Medium dry
£7.70
Masala Meat
A thoroughly garnished dish, onions, garlic & tomato & a few selected spices. Extensively flavoured & palatable to every kind of constitution
Medium dry
£7.70
Masala Mushroom
A thoroughly garnished dish, onions, garlic & tomato & a few selected spices. Extensively flavoured & palatable to every kind of constitution
Medium dry
£7.70
Masala Prawn
A thoroughly garnished dish, onions, garlic & tomato & a few selected spices. Extensively flavoured & palatable to every kind of constitution
Medium dry
£8.20
Masala Vegetable
A thoroughly garnished dish, onions, garlic & tomato & a few selected spices. Extensively flavoured & palatable to every kind of constitution
Medium dry
£7.70
Mixed Wrap Meal
Chicken tikka & donner
£7.00
Mixed Wrap Solo
Chicken tikka & donner
£4.50
Contact Us
Find Us
48 Leonard Street, Bingley, BD162PS
We deliver to
BD13, BD15, BD16, BD18, BD20, BD21