About Us
Spicy Hut is a Indian takeaway in Bingley. Why don't you try our Keema on Naan or Kebab Meat in Tray with Chips?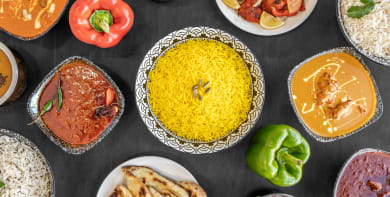 Reviews
120 reviews
Endgame
"Outstanding food & service"
18/05/2020
Stacey
"Food and service was brilliant, one of the best curries I have tasted! Would definitely recommend and will be going back :)"
10/05/2020
Matthew
"It was great as always.....had a curry this time but the pizzas are good too."
08/05/2020
Catherine
"Absolutely love spicy hut. Staff are always very obliging and friendly. Best kebabs in Bingley in my opinion."
07/05/2020
Menu
Chicken Tikka Starter Breast Off Bone
£5.00
Chicken Tikka Starter On The Bone
£5.50
Meat Box
Meat samosa, seekh kebab, shami kebab & fresh salad
£4.50
Mixed Starter
A mixture of shami, onion bhaji, samosa, mushroom, chicken pakora, Asian pakora, spring roll & potato bhaji
£5.70
Mixed Tikka Starter
Chicken tikka, meat tikka & fresh salad
£6.00
Special Mixed Starter
Mixed starter (above) with chicken tikka & seekh kebab
£7.00
Spring Roll (3)
Vegetable
£2.50
Vegetable Pakora (5)
Asian style, hot
£2.50
Cheeseburger Double
Topped with cheese
£4.70
Cheeseburger Single
Topped with cheese
£3.70
Cheeseburger Triple
Topped with cheese
£5.70
Cheesy Chicken Burger Double
Chicken coated with batter served with cheese, lettuce & mayonnaise
£5.50
Cheesy Chicken Burger Single
Chicken coated with batter served with cheese, lettuce & mayonnaise
£4.50
Cheesy Chicken Burger Triple
Chicken coated with batter served with cheese, lettuce & mayonnaise
£6.50
Cheesy Fish Burger Double
Served with lettuce, mayonnaise, cheese & burger sauce
£5.50
Cheesy Fish Burger Single
Served with lettuce, mayonnaise, cheese & burger sauce
£4.50
Cheesy Fish Burger Triple
Served with lettuce, mayonnaise, cheese & burger sauce
£6.50
Chicken Burger Double
Chicken coated with batter served with lettuce & mayonnaise
£5.00
Chicken Burger Single
Chicken coated with batter served with lettuce & mayonnaise
£4.00
Chicken Burger Triple
Chicken coated with batter served with lettuce & mayonnaise
£6.00
Chicken Fillet Burger Double
Prime chicken breast coated with batter served with lettuce & mayonnaise
£5.50
Chicken Fillet Burger Single
Prime chicken breast coated with batter served with lettuce & mayonnaise
£4.50
Chicken Fillet Burger Triple
Prime chicken breast coated with batter served with lettuce & mayonnaise
£6.50
American Burger Double
Topped with fried onions
£4.70
American Burger Single
Topped with fried onions
£3.70
American Burger Triple
Topped with fried onions
£5.70
American Supreme Burger Double
With fried onions & cheese
£5.00
American Supreme Burger Single
With fried onions & cheese
£4.00
American Supreme Burger Triple
With fried onions & cheese
£6.00
BBQ Burger Double
Topped with cheese & BBQ sauce
£4.70
BBQ Burger Single
Topped with cheese & BBQ sauce
£3.70
BBQ Burger Triple
Topped with cheese & BBQ sauce
£5.70
Donner Burger Double
Beef burger topped with donner meat
£5.50
Donner Burger Single
Beef burger topped with donner meat
£4.50
Donner Burger Triple
Beef burger topped with donner meat
£6.50
Daddy Burger
4x Beef burgers topped with cheese, burger sauce, lettuce & mayo
£7.00
Garlic Burger Double
Topped with garlic mayonnaise
£4.70
Garlic Burger Single
Topped with garlic mayonnaise
£3.70
Garlic Burger Triple
Topped with garlic mayonnaise
£5.70
Combo Burger Double
Chicken fillet burger, beef burger topped with cheese, lettuce & mayonnaise
£6.30
Combo Burger Single
Chicken fillet burger, beef burger topped with cheese, lettuce & mayonnaise
£5.30
Combo Burger Triple
Chicken fillet burger, beef burger topped with cheese, lettuce & mayonnaise
£7.30
Chilli Burger Double
Topped with chilli sauce
£5.00
Chilli Burger Single
Topped with chilli sauce
£4.00
Chilli Burger Triple
Topped with chilli sauce
£6.00
Texas Burger Double
Beef burger topped with cheese, onions, green peppers, onion rings with a choice of sauces
£5.30
Texas Burger Single
Beef burger topped with cheese, onions, green peppers, onion rings with a choice of sauces
£4.30
Texas Burger Triple
Beef burger topped with cheese, onions, green peppers, onion rings with a choice of sauces
£6.30
Tower Burger Double
Chicken fillet topped with hash brown, cheese, lettuce & mayonnaise
£5.70
Tower Burger Single
Chicken fillet topped with hash brown, cheese, lettuce & mayonnaise
£4.70
Tower Burger Triple
Chicken fillet topped with hash brown, cheese, lettuce & mayonnaise
£6.70
Flamin Burger Double
Beef burger topped with onions, green peppers, chilli sauce & cheese
£5.30
Flamin Burger Single
Beef burger topped with onions, green peppers, chilli sauce & cheese
£4.30
Flamin Burger Triple
Beef burger topped with onions, green peppers, chilli sauce & cheese
£6.30
Hawaiian Burger Double
Topped with cheese & pineapple
£5.30
Hawaiian Burger Single
Topped with cheese & pineapple
£4.30
Hawaiian Burger Triple
Topped with cheese & pineapple
£6.30
Ben & Jerry's Chocolate Cookie Dough - 500ml
Vanilla ice cream with gobs of chocolate chip cookie dough
£5.95
Ben & Jerry's Chocolate Fudge Brownie - 500ml
Chocolate ice cream with fudge brownies- The fabulously fudgy brownies in this flavor come from New York's Greyston Bakery
£5.95
Cornflake Tart With Custard
£4.50
Jam Roly Poly With Custard
£4.50
Ferrero Rocher Cheesecake
£4.00
Original Kulfi Ice Cream - 120ml
with Almonds and Pistachios
£2.50
Mango Kulfi Ice Cream - 120ml
£2.50
Krazzy Moo Ice Cream 120ml Strawberry
£2.00
Krazzy Moo Ice Cream 120ml Bubble gum
£2.00
Krazzy Moo Ice Cream 120ml Chocolate
£2.00
Butter Meat Balti
Cooked with top quality butter & spices
£9.50
Chicken Tikka Keema Balti
£9.50
Parsi Chicken
A dish lavishly garnished with fresh garlic, green chillies, spring onions, ginger, tomatoes & chana daal
£9.50
Parsi Meat
A dish lavishly garnished with fresh garlic, green chillies, spring onions, ginger, tomatoes & chana daal
£9.50
Cheesy Chicken Tikka Balti
£9.50
Karahi Chicken
Small pieces of meat or chicken cooked with onions, garlic, peppers, tomatoes in an Asian style wok. Garnished with coriander & spices
£9.00
Karahi Chicken Tikka
Small pieces of meat or chicken cooked with onions, garlic, peppers, tomatoes in an Asian style wok. Garnished with coriander & spices
£9.50
Karahi Keema
Small pieces of meat or chicken cooked with onions, garlic, peppers, tomatoes in an Asian style wok. Garnished with coriander & spices
£9.00
Karahi Meat
Small pieces of meat or chicken cooked with onions, garlic, peppers, tomatoes in an Asian style wok. Garnished with coriander & spices
£9.00
Karahi Mixed (Chicken, Meat, Mushroom & Prawn)
Small pieces of meat or chicken cooked with onions, garlic, peppers, tomatoes in an Asian style wok. Garnished with coriander & spices
£9.80
Karahi Prawn
Small pieces of meat or chicken cooked with onions, garlic, peppers, tomatoes in an Asian style wok. Garnished with coriander & spices
£9.50
Karahi Vegetable
Small pieces of meat or chicken cooked with onions, garlic, peppers, tomatoes in an Asian style wok. Garnished with coriander & spices
£9.00
Hyderabadi Chicken
A distinctly rich dish cooked with tangy spices, coriander, fresh cream, yoghurt, tomatoes, garlic & ginger in bay leaf juices, cardamom & cloves. This is a very rich dish & full of distinctive flavour
£9.30
Hyderabadi Chicken Tikka
A distinctly rich dish cooked with tangy spices, coriander, fresh cream, yoghurt, tomatoes, garlic & ginger in bay leaf juices, cardamom & cloves. This is a very rich dish & full of distinctive flavour
£9.80
Hyderabadi Keema
A distinctly rich dish cooked with tangy spices, coriander, fresh cream, yoghurt, tomatoes, garlic & ginger in bay leaf juices, cardamom & cloves. This is a very rich dish & full of distinctive flavour
£9.30
Hyderabadi Meat
A distinctly rich dish cooked with tangy spices, coriander, fresh cream, yoghurt, tomatoes, garlic & ginger in bay leaf juices, cardamom & cloves. This is a very rich dish & full of distinctive flavour
£9.30
Hyderabadi Mixed (Chicken, Meat, Mushroom & Prawn)
A distinctly rich dish cooked with tangy spices, coriander, fresh cream, yoghurt, tomatoes, garlic & ginger in bay leaf juices, cardamom & cloves. This is a very rich dish & full of distinctive flavour
£9.80
Hyderabadi Prawn
A distinctly rich dish cooked with tangy spices, coriander, fresh cream, yoghurt, tomatoes, garlic & ginger in bay leaf juices, cardamom & cloves. This is a very rich dish & full of distinctive flavour
£9.80
Hyderabadi Vegetable
A distinctly rich dish cooked with tangy spices, coriander, fresh cream, yoghurt, tomatoes, garlic & ginger in bay leaf juices, cardamom & cloves. This is a very rich dish & full of distinctive flavour
£9.30
Garlic Chilli Chicken
Cooked with fresh garlic in a thick sauce, sprinkled with fresh green chillies, (medium to hot)
£9.30
Garlic Chilli Chicken Tikka
Cooked with fresh garlic in a thick sauce, sprinkled with fresh green chillies, (medium to hot)
£9.80
Garlic Chilli Keema
Cooked with fresh garlic in a thick sauce, sprinkled with fresh green chillies, (medium to hot)
£9.30
Garlic Chilli Meat
Cooked with fresh garlic in a thick sauce, sprinkled with fresh green chillies, (medium to hot)
£9.30
Garlic Chilli Mixed Balti (Chicken, Meat, Mushroom & Prawn)
Cooked with fresh garlic in a thick sauce, sprinkled with fresh green chillies, (medium to hot)
£9.80
Garlic Chilli Vegetable
Cooked with fresh garlic in a thick sauce, sprinkled with fresh green chillies, (medium to hot)
£9.30
Achar Chicken
Achar dishes are cooked with fresh tomatoes, onions, green chillies, garlic, coriander, methi seeds, aniseeds, mustard seeds & ginger, & gently simmered in bay leaf juice
£9.30
Achar Chicken Tikka
Achar dishes are cooked with fresh tomatoes, onions, green chillies, garlic, coriander, methi seeds, aniseeds, mustard seeds & ginger, & gently simmered in bay leaf juice
£9.80
Achar Keema
Achar dishes are cooked with fresh tomatoes, onions, green chillies, garlic, coriander, methi seeds, aniseeds, mustard seeds & ginger, & gently simmered in bay leaf juice
£9.30
Achar Meat
Achar dishes are cooked with fresh tomatoes, onions, green chillies, garlic, coriander, methi seeds, aniseeds, mustard seeds & ginger, & gently simmered in bay leaf juice
£9.30
Achar Mixed Balti (Chicken, Meat, Mushroom & Prawn)
Achar dishes are cooked with fresh tomatoes, onions, green chillies, garlic, coriander, methi seeds, aniseeds, mustard seeds & ginger, & gently simmered in bay leaf juice
£9.80
Achar Vegetable
Achar dishes are cooked with fresh tomatoes, onions, green chillies, garlic, coriander, methi seeds, aniseeds, mustard seeds & ginger, & gently simmered in bay leaf juice
£9.30
Balti Chicken
Prepared with fresh garlic, ginger, tomatoes, onions, fresh coriander, herbs & spices. Cooked in a balti
£9.30
Balti Chicken Tikka
Prepared with fresh garlic, ginger, tomatoes, onions, fresh coriander, herbs & spices. Cooked in a balti
£9.80
Balti Keema
Prepared with fresh garlic, ginger, tomatoes, onions, fresh coriander, herbs & spices. Cooked in a balti
£9.30
Balti Meat
Prepared with fresh garlic, ginger, tomatoes, onions, fresh coriander, herbs & spices. Cooked in a balti
£9.30
Balti Prawn
Prepared with fresh garlic, ginger, tomatoes, onions, fresh coriander, herbs & spices. Cooked in a balti
£9.80
Balti Special Mixed (Chicken, Meat, Mushroom & Prawn)
Prepared with fresh garlic, ginger, tomatoes, onions, fresh coriander, herbs & spices. Cooked in a balti
£10.30
Balti Vegetable
Prepared with fresh garlic, ginger, tomatoes, onions, fresh coriander, herbs & spices. Cooked in a balti
£9.30
Balti Mixed with Vegetable Balti Bhindi Ghosht (Okra Meat)
A thoroughly garnished dish, onions, garlic & tomato & a few balti spices. Extensively flavoured & palatable to every kind of constitution
£9.80
Balti Mixed with Vegetable Balti Chana Murgh (Chickpeas Chicken)
A thoroughly garnished dish, onions, garlic & tomato & a few balti spices. Extensively flavoured & palatable to every kind of constitution
£9.80
Balti Mixed with Vegetable Balti Ghobi Ghosht (Cauliflower Meat)
A thoroughly garnished dish, onions, garlic & tomato & a few balti spices. Extensively flavoured & palatable to every kind of constitution
£9.80
Balti Mixed with Vegetable Balti Ghobi Murgh (Cauliflower Chicken)
A thoroughly garnished dish, onions, garlic & tomato & a few balti spices. Extensively flavoured & palatable to every kind of constitution
£9.80
Balti Mixed with Vegetable Balti Saag Gosht (Spinach Meat)
A thoroughly garnished dish, onions, garlic & tomato & a few balti spices. Extensively flavoured & palatable to every kind of constitution
£9.80
Balti Mixed with Vegetable Balti Saag Murgh (Spinach Chicken)
A thoroughly garnished dish, onions, garlic & tomato & a few balti spices. Extensively flavoured & palatable to every kind of constitution
£9.80
Aloo Chana
Potato & chickpeas
£5.00
Aloo Gobi
Potato & cauliflower
£5.00
Aloo Palak
Potato & spinach
£5.00
Chicken Tikka Gravy
Chicken tikka on the bone, curry sauce & 3 chapatis
£9.00
Biryani Biryani Khas
The main item is fried in oil with specially cooked with Saffron flavoured basmati rice, served with a vegetable curry sauce
£8.30
Biryani Chicken
The main item is fried in oil with specially cooked with Saffron flavoured basmati rice, served with a vegetable curry sauce
£7.30
Biryani Chicken Tikka
The main item is fried in oil with specially cooked with Saffron flavoured basmati rice, served with a vegetable curry sauce
£7.80
Biryani Meat
The main item is fried in oil with specially cooked with Saffron flavoured basmati rice, served with a vegetable curry sauce
£7.30
Biryani Mushroom
The main item is fried in oil with specially cooked with Saffron flavoured basmati rice, served with a vegetable curry sauce
£7.30
Biryani Prawn
The main item is fried in oil with specially cooked with Saffron flavoured basmati rice, served with a vegetable curry sauce
£7.80
Biryani Vegetable
The main item is fried in oil with specially cooked with Saffron flavoured basmati rice, served with a vegetable curry sauce
£7.30
Kebab Meat in Tray Regular
£3.70
Kebab Meat in Tray with Chips Large
£5.70
Kebab Meat in Tray with Chips Regular
£4.70
Mixed Kebab & Chips in Tray Large
£8.00
Mixed Kebab & Chips in Tray Regular
£7.00
Mixed Kebab in Pitta Large
Chicken tikka & donner
£6.50
Mixed Kebab in Pitta Regular
Chicken tikka & donner
£5.50
Meat Tikka in Pitta Large
£6.20
Meat Tikka in Pitta Regular
£5.20
Seekh Kebab in Pitta (2) Large
£5.20
Seekh Kebab in Pitta (2) Regular
£4.20
Chicken Tikka & Chips Large
£6.70
Chicken Tikka & Chips Regular
£5.70
Chicken Tikka in Pitta Large
£6.50
Chicken Tikka in Pitta Regular
£5.50
Chicken Tikka on Naan Large
£7.50
Chicken Tikka on Naan Regular
£6.50
Seekh Kebab on Naan (3) Large
£6.50
Seekh Kebab on Naan (3) Regular
£5.50
Special Kebab on Naan Large
Donner, shish, chicken tikka & seekh
£9.00
Special Kebab on Naan Regular
Donner, shish, chicken tikka & seekh
£8.00
Super Kebab on Naan Large
Donner, shish, chicken tikka, keema & seekh
£10.00
Super Kebab on Naan Regular
Donner, shish, chicken tikka, keema & seekh
£9.00
Supremealicious Large
Donner, shish, chicken tikka, keema, seekh & shami kebab with fried onions
£14.00
Supremealicious Regular
Donner, shish, chicken tikka, keema, seekh & shami kebab with fried onions
£13.00
Meat Tikka on Naan Regular
£6.50
Mixed Kebab on Naan Large
Chicken tikka & donner
£8.00
Mixed Kebab on Naan Regular
Chicken tikka & donner
£7.00
Pickle Tray
Mango chutney, mixed pickle, red onion sauce, chilli sauce & mint sauce
£2.00
Family Pack
6 Pieces & 2 chips
£8.00
Mega Family Box
6 pieces
2 chips
popcorn chicken & chips
bottle of Pepsi
£14.00
Bhuna Chicken
A thoroughly garnished dish, onions, garlic & tomato & a few selected spices. Extensively flavoured & palatable to every kind of constitution
Medium
£7.70
Bhuna Chicken Tikka
A thoroughly garnished dish, onions, garlic & tomato & a few selected spices. Extensively flavoured & palatable to every kind of constitution
Medium
£8.20
Bhuna Keema
A thoroughly garnished dish, onions, garlic & tomato & a few selected spices. Extensively flavoured & palatable to every kind of constitution
Medium
£7.70
Bhuna Meat
A thoroughly garnished dish, onions, garlic & tomato & a few selected spices. Extensively flavoured & palatable to every kind of constitution
Medium
£7.70
Bhuna Mushroom
A thoroughly garnished dish, onions, garlic & tomato & a few selected spices. Extensively flavoured & palatable to every kind of constitution
Medium
£7.70
Bhuna Prawn
A thoroughly garnished dish, onions, garlic & tomato & a few selected spices. Extensively flavoured & palatable to every kind of constitution
Medium
£8.20
Bhuna Vegetable
A thoroughly garnished dish, onions, garlic & tomato & a few selected spices. Extensively flavoured & palatable to every kind of constitution
Medium
£7.70
Curries Chicken
The sauce of these curries is of a medium consistency produced from a wide, basic range of oriental spices with a rich flavour
Medium
£7.30
Curries Chicken Tikka
The sauce of these curries is of a medium consistency produced from a wide, basic range of oriental spices with a rich flavour
Medium
£7.80
Curries Keema
The sauce of these curries is of a medium consistency produced from a wide, basic range of oriental spices with a rich flavour
Medium
£7.30
Curries Meat
The sauce of these curries is of a medium consistency produced from a wide, basic range of oriental spices with a rich flavour
Medium
£7.30
Curries Mushroom
The sauce of these curries is of a medium consistency produced from a wide, basic range of oriental spices with a rich flavour
Medium
£7.30
Curries Prawn
The sauce of these curries is of a medium consistency produced from a wide, basic range of oriental spices with a rich flavour
Medium
£7.80
Curries Vegetable
The sauce of these curries is of a medium consistency produced from a wide, basic range of oriental spices with a rich flavour
Medium
£7.30
Dopiaza Chicken
Maximum onions seasoned & fresh, applied with dozens of spices to produce a taste that is medium hot
Medium
£7.70
Dopiaza Chicken Tikka
Maximum onions seasoned & fresh, applied with dozens of spices to produce a taste that is medium hot
Medium
£8.20
Dopiaza Keema
Maximum onions seasoned & fresh, applied with dozens of spices to produce a taste that is medium hot
Medium
£7.70
Dopiaza Meat
Maximum onions seasoned & fresh, applied with dozens of spices to produce a taste that is medium hot
Medium
£7.70
Dopiaza Mushroom
Maximum onions seasoned & fresh, applied with dozens of spices to produce a taste that is medium hot
Medium
£7.70
Dopiaza Prawn
Maximum onions seasoned & fresh, applied with dozens of spices to produce a taste that is medium hot
Medium
£8.20
Dopiaza Vegetable
Maximum onions seasoned & fresh, applied with dozens of spices to produce a taste that is medium hot
Medium
£7.70
Dahi Chicken
A delicate preparation of yoghurt & spices producing a very mild but rich texture & flavour, palatable to all tastes
Mild
£7.70
Dahi Chicken Tikka
A delicate preparation of yoghurt & spices producing a very mild but rich texture & flavour, palatable to all tastes
Mild
£8.20
Dahi Keema
A delicate preparation of yoghurt & spices producing a very mild but rich texture & flavour, palatable to all tastes
Mild
£7.70
Dahi Meat
A delicate preparation of yoghurt & spices producing a very mild but rich texture & flavour, palatable to all tastes
Mild
£7.70
Dahi Mushroom
A delicate preparation of yoghurt & spices producing a very mild but rich texture & flavour, palatable to all tastes
Mild
£7.70
Dahi Prawn
A delicate preparation of yoghurt & spices producing a very mild but rich texture & flavour, palatable to all tastes
Mild
£8.20
Dahi Vegetable
A delicate preparation of yoghurt & spices producing a very mild but rich texture & flavour, palatable to all tastes
Mild
£7.70
Dansak Chicken
A beautiful combination of spices with pineapple, lentils & garlic to produce a sweet & sour taste. Of Persian origin
Sweet & sour
£7.70
Dansak Chicken Tikka
A beautiful combination of spices with pineapple, lentils & garlic to produce a sweet & sour taste. Of Persian origin
Sweet & sour
£8.20
Dansak Keema
A beautiful combination of spices with pineapple, lentils & garlic to produce a sweet & sour taste. Of Persian origin
Sweet & sour
£7.70
Dansak Meat
A beautiful combination of spices with pineapple, lentils & garlic to produce a sweet & sour taste. Of Persian origin
Sweet & sour
£7.70
Dansak Mushroom
A beautiful combination of spices with pineapple, lentils & garlic to produce a sweet & sour taste. Of Persian origin
Sweet & sour
£7.70
Dansak Prawn
A beautiful combination of spices with pineapple, lentils & garlic to produce a sweet & sour taste. Of Persian origin
Sweet & sour
£8.20
Dansak Vegetable
A beautiful combination of spices with pineapple, lentils & garlic to produce a sweet & sour taste. Of Persian origin
Sweet & sour
£7.70
Vindaloo Chicken
A South Indian dish having a greater proportion of tomato puree & spice which lends a fiery taste
Very hot
£7.70
Vindaloo Chicken Tikka
A South Indian dish having a greater proportion of tomato puree & spice which lends a fiery taste
Very hot
£8.20
Vindaloo Keema
A South Indian dish having a greater proportion of tomato puree & spice which lends a fiery taste
Very hot
£7.70
Vindaloo Meat
A South Indian dish having a greater proportion of tomato puree & spice which lends a fiery taste
Very hot
£7.70
Vindaloo Mushroom
A South Indian dish having a greater proportion of tomato puree & spice which lends a fiery taste
Very hot
£7.70
Vindaloo Prawn
A South Indian dish having a greater proportion of tomato puree & spice which lends a fiery taste
Very hot
£8.20
Vindaloo Vegetable
A South Indian dish having a greater proportion of tomato puree & spice which lends a fiery taste
Very hot
£7.70
Rogan Josh Chicken
A special preparation, extremely prepared with pimiento, garlic & garnished with tomatoes
Medium
£7.70
Rogan Josh Chicken Tikka
A special preparation, extremely prepared with pimiento, garlic & garnished with tomatoes
Medium
£8.20
Rogan Josh Keema
A special preparation, extremely prepared with pimiento, garlic & garnished with tomatoes
Medium
£7.70
Rogan Josh Meat
A special preparation, extremely prepared with pimiento, garlic & garnished with tomatoes
Medium
£7.70
Rogan Josh Mushroom
A special preparation, extremely prepared with pimiento, garlic & garnished with tomatoes
Medium
£7.70
Rogan Josh Prawn
A special preparation, extremely prepared with pimiento, garlic & garnished with tomatoes
Medium
£8.20
Rogan Josh Vegetable
A special preparation, extremely prepared with pimiento, garlic & garnished with tomatoes
Medium
£7.70
Pathia Chicken
Extensive use of garlic, onions, tomato puree, red chilli & black pepper. A sour & hot taste
Medium
£7.70
Pathia Chicken Tikka
Extensive use of garlic, onions, tomato puree, red chilli & black pepper. A sour & hot taste
Medium
£8.20
Pathia Keema
Extensive use of garlic, onions, tomato puree, red chilli & black pepper. A sour & hot taste
Medium
£7.70
Pathia Meat
Extensive use of garlic, onions, tomato puree, red chilli & black pepper. A sour & hot taste
Medium
£7.70
Pathia Mushroom
Extensive use of garlic, onions, tomato puree, red chilli & black pepper. A sour & hot taste
Medium
£7.70
Pathia Prawn
Extensive use of garlic, onions, tomato puree, red chilli & black pepper. A sour & hot taste
Medium
£8.20
Pathia Vegetable
Extensive use of garlic, onions, tomato puree, red chilli & black pepper. A sour & hot taste
Medium
£7.70
Jalfrezi Chicken
Cooked with garlic, tomatoes, eggs, chillies, herbs & spices
Medium
£7.70
Jalfrezi Chicken Tikka
Cooked with garlic, tomatoes, eggs, chillies, herbs & spices
Medium
£8.20
Jalfrezi Keema
Cooked with garlic, tomatoes, eggs, chillies, herbs & spices
Medium
£7.70
Jalfrezi Meat
Cooked with garlic, tomatoes, eggs, chillies, herbs & spices
Medium
£7.70
Jalfrezi Mushroom
Cooked with garlic, tomatoes, eggs, chillies, herbs & spices
Medium
£7.70
Jalfrezi Prawn
Cooked with garlic, tomatoes, eggs, chillies, herbs & spices
Medium
£8.20
Jalfrezi Vegetable
Cooked with garlic, tomatoes, eggs, chillies, herbs & spices
Medium
£7.70
Korma Chicken
A delicate preparation of coconut, cream & spices producing a very mild but rich texture & flavour, palatable to all tastes
Mild
£7.70
Korma Chicken Tikka
A delicate preparation of coconut, cream & spices producing a very mild but rich texture & flavour, palatable to all tastes
Mild
£8.20
Korma Keema
A delicate preparation of coconut, cream & spices producing a very mild but rich texture & flavour, palatable to all tastes
Mild
£7.70
Korma Meat
A delicate preparation of coconut, cream & spices producing a very mild but rich texture & flavour, palatable to all tastes
Mild
£7.70
Korma Mushroom
A delicate preparation of coconut, cream & spices producing a very mild but rich texture & flavour, palatable to all tastes
Mild
£7.70
Korma Prawn
A delicate preparation of coconut, cream & spices producing a very mild but rich texture & flavour, palatable to all tastes
Mild
£8.20
Korma Vegetable
A delicate preparation of coconut, cream & spices producing a very mild but rich texture & flavour, palatable to all tastes
Mild
£7.70
Madras Chicken
A South Indian dish having a greater proportion of tomato puree & spice which lends a fiery taste
Hot
£7.70
Madras Chicken Tikka
A South Indian dish having a greater proportion of tomato puree & spice which lends a fiery taste
Hot
£8.20
Madras Keema
A South Indian dish having a greater proportion of tomato puree & spice which lends a fiery taste
Hot
£7.70
Madras Meat
A South Indian dish having a greater proportion of tomato puree & spice which lends a fiery taste
Hot
£7.70
Madras Mushroom
A South Indian dish having a greater proportion of tomato puree & spice which lends a fiery taste
Hot
£7.70
Madras Prawn
A South Indian dish having a greater proportion of tomato puree & spice which lends a fiery taste
Hot
£8.20
Madras Vegetable
A South Indian dish having a greater proportion of tomato puree & spice which lends a fiery taste
Hot
£7.70
Makhani Chicken
A dish in a creamy buttery sauce, with herbs
Mild
£7.70
Makhani Chicken Tikka
A dish in a creamy buttery sauce, with herbs
Mild
£8.20
Makhani Keema
A dish in a creamy buttery sauce, with herbs
Mild
£7.70
Makhani Meat
A dish in a creamy buttery sauce, with herbs
Mild
£7.70
Makhani Mushroom
A dish in a creamy buttery sauce, with herbs
Mild
£7.70
Makhani Prawn
A dish in a creamy buttery sauce, with herbs
Mild
£8.20
Makhani Vegetable
A dish in a creamy buttery sauce, with herbs
Mild
£7.70
Masala Chicken
A thoroughly garnished dish, onions, garlic & tomato & a few selected spices. Extensively flavoured & palatable to every kind of constitution
Medium dry
£7.70
Masala Chicken Tikka
A thoroughly garnished dish, onions, garlic & tomato & a few selected spices. Extensively flavoured & palatable to every kind of constitution
Medium dry
£8.20
Masala Keema
A thoroughly garnished dish, onions, garlic & tomato & a few selected spices. Extensively flavoured & palatable to every kind of constitution
Medium dry
£7.70
Masala Meat
A thoroughly garnished dish, onions, garlic & tomato & a few selected spices. Extensively flavoured & palatable to every kind of constitution
Medium dry
£7.70
Masala Mushroom
A thoroughly garnished dish, onions, garlic & tomato & a few selected spices. Extensively flavoured & palatable to every kind of constitution
Medium dry
£7.70
Masala Prawn
A thoroughly garnished dish, onions, garlic & tomato & a few selected spices. Extensively flavoured & palatable to every kind of constitution
Medium dry
£8.20
Masala Vegetable
A thoroughly garnished dish, onions, garlic & tomato & a few selected spices. Extensively flavoured & palatable to every kind of constitution
Medium dry
£7.70
Mixed Wrap Meal
Chicken tikka & donner
£7.00
Mixed Wrap Solo
Chicken tikka & donner
£4.50
Contact Us
Find Us
48 Leonard Street, Bingley, BD162PS
We deliver to
BD13, BD15, BD16, BD18, BD20, BD21